Archivio Film / Film Archives
Titolo Originale:

Cornflake Girl

Titolo in Italiano:

Ragazza ai fiocchi di granturco
Regia:
Jennifer McGlone
Durata:
6'
Genere:
Narrativo - Fiction
Anno:
2000
Nazione:
Usa
Colore/B&N:
Edizione:
Un appuntamento dalla ginecologa si mette veramente male quando la dottoressa Heather Ariza scopre che Chloe sta videoriprendendo la visita. Chloe, preoccupata dell'infelicità della sua ragazza, Alicia, decide di confrontarsi con la fonte di questa sofferenza, la sorella di Alicia, Heather. Così fa in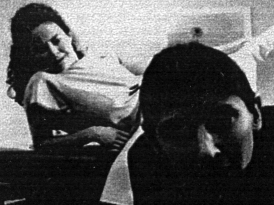 modo di incontrarla, senza farsi identificare, sul suo posto di lavoro. Quando la dottoressa Heather Ariza entra in ambulatorio, non ha la minima idea di quello che Chloe ha architettato.
A trip to the gynecologist goes horribly wrong when Dr. Ariza discovers that Chloe is videotaping the exam. Troubled by her girlfriend Alicia's unhappiness, Chloe decides to confront the source of the misery, Alicia's sister, Heather. She decides to pursue Heather incognito, and at her place of work. When Dr. Heather Ariza walks into the examinig room, she has no idea of all that Chloe has planned.