Archivio Film / Film Archives
Titolo Originale:

Immortal muse

Titolo in Italiano:

Musa immortale
Regia:
Sue Giovanni
Durata:
25'
Genere:
Documentario - Documentary
Anno:
2005
Nazione:
UK
Colore/B&N:
Edizione: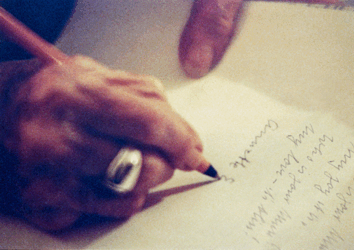 Annette Eick, ebrea, nasce a Berlino nel 1909. Sotto il regime nazista emigra in Inghilterra e dopo avere soggiornato ad Hamstead si ferma a Devon dove, all'età di 95 anni, vive da sola dalla morte della sua compagna. "Berlino? Ero una straniera là, ma anche qui lo sono". Nella sua vita ha attraversato paesi, culture e comunità diverse, sempre sorretta dalla sua musa ispiratrice, tenendo un diario quotidiano, scrivendo poesie e traendo forza e serenità dai ricordi del suo intenso passato.
A visual documentation of emigration, love, strength, creativity and old age. Annette Eick is philosophical about her migration from Nazi Berlin, via Hampstead to Devon. At 95 years of age she is not concerned about fitting in. After the death of a partner, she lives alone. She has written a daily journal and poetry for decades. She is sustained by her muse.